In Russian language prefix + verb = a new verb
In most cases, the Russian native speakers who learn English, not knowing a word and having to look it up in a dictionary, will find a bunch of different meanings for a word. This is what makes it complicated for the Russian speakers to learn English, since they have to choose one variant over the others often operating with the meaning of the word in accordance with the context, simply guessing the meaning. This happens because most of the words in English languages are polysemantic. Compared to English, the Russian language has a different lexical structure. Most words in Russian do not have multiple meanings. And today we're going to discover how the meaning of the verb changes when it goes with the prefix.
We're going to work on the commonly daily used verb
говорить - speak.
Before we start looking at how the meanings of this verb change with the use of prefixes, we quickly go through all the tense systems. (Later on, it will work for all our new prefixed verbs as well). In fact, there are mostly three tenses: Present, Past and Future tenses with imperfective and perfective aspects.
The initial form for this verb is
говорить.
Imperfective aspect
- говорить
Perfective aspect
- поговорить
я говор
ю́
ты говор
и́шь
он говор
и́т
мы говор
и́м
вы говор
и́те
они говор
я́т
In the Russian language, there is such notion as
Continuous
form. If we want to make sure that the action is not completed yet and is happening at this very moment, we just can add the adverb of time
сейчас.
Вы сейчас говорите о своей судьбе.
You are speaking about your destiny.
For in
Past Simple
, all we need to know that the endings for
masculine, feminine, neuter, and plural forms.
Imperf. asp.
Imperf. asp.
Masculine
- говор
и́л
поговор
и́л
Feminine
- говор
и́ла
поговор
и́ла
Neuter
- говор
и́ло
поговор
и́ло
Plural
- говор
и́ли
поговор
и́ли
Imperf. asp. Imperf. asp.
я говор
и́л(а)
поговор
и́л(а)
ты говор
и́л(а)
поговор
и́л(а)
он/она говор
и́л(а)
поговор
и́л(а)
они говор
и́ли
поговор
и́ли
For the
Future Tense
of the imperfective aspect, we will use an auxiliary verb
быть
plus the initial form of the verb "говорить" and for the perfective aspect, we use the prefix
по
.
Imperf. asp. Imperf. asp.
я
буду
говори́ть поговорю́
ты
будешь
говори́ть поговори́шь
он
будет
говори́ть поговори́т
она
будет
говори́ть поговори́т
мы
будем
говори́ть поговори́м
вы
будете
говори́ть поговори́те
они
будут
говори́ть поговоря́т
We're about to start with the most interesting part of our verb review, adding the prefixes to our verb
говорить
and see how this small syllable or even a single letter would affect the verb producing completely new verbs with their specific meanings. The fundamental principle to remember about Russian verbs is that they are basically imperfective. However, when a prefix is added to them, they automatically become perfective.
So, if we add a prefix to the verb
говорить
, the verb will have a perfective aspect. However, if we need the verb with the imperfective aspect for these new verbs, the base verb is going to be ..
говаривать.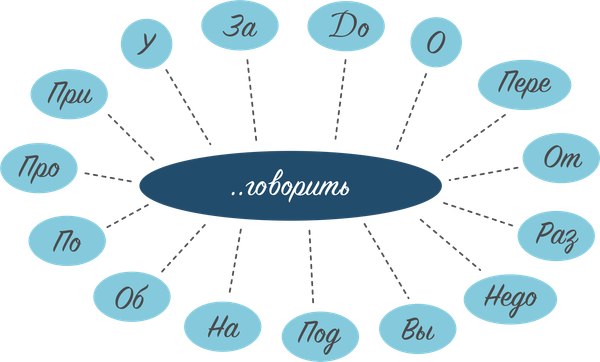 У + ГОВОРИТЬ – УГОВОРИТЬ - PERSUADE
Как я могу тебя уговорить помочь моему другу?
How can I persuade you to help my friend?
ЗА+ГОВОРИТЬ – ЗАГОВОРИТЬ – START SPEAKING
Как мне быстро и легко заговорить по-русски?
How can I start speaking Russian fast and easily?
ДО-ГОВОРИТЬ – ДОГОВОРИТЬ – FINISH SPEAKING
Если бы я только смог договорить свою мысль сейчас.
If only I could finish my thought now.
О+ГОВОРИТЬ – ОГОВОРИТЬ - SLANDER
Прямых улик нет, а оговорить могут и невинного человека.
There is no direct evidence, but an innocent person can also be slandered.
ПЕРЕ-ГОВОРИТЬ – ПЕРЕГОВОРИТЬ – TALK OVER, CONVERSE
Мне нужно с Вами переговорить наедине.
I need to speak with you in private.
ОТ-ГОВОРИТЬ-ОТГОВОРИТЬ - DISSUADE
Это была неудачная попытка отговорить ее от этого шага.
It was an unsuccessful attempt to dissuade her from taking this step.
РАЗ-ГОВОРИТЬ-РАЗГОВОРИТЬ – MAKE SOMEBODY SPEAK
Потребовалось около полчаса, чтобы хоть как то разговорить этого молчуна.
It took about half an hour to somehow get this silent man to talk.
НЕДО-ГОВОРИТЬ-НЕДОГОВОРИТЬ – LEAVE UNSAID
Ты что-то недоговариваешь. Что произошло?
You are not saying everything. What happened?
ПОД-ГОВОРИТЬ-ПОДГОВОРИТЬ – INCITE
Ребят кто-то подговорил на эту шалость. Они бы сами не додумались до такого.
Someone incited the guys to do this prank. They themselves would not have thought of this.
НА-ГОВОРИТЬ-НАГОВОРИТЬ – SAY TOO MUCH
Прости, я наговорил лишнего сегодня. Наверное, я тебя обидел.
Sorry, I said too much today. I guess I offended you.
ОБ-ГОВОРИТЬ-ОБГОВОРИТЬ – DISCUSS IN DETAIL
Можно тебя на минуточку? Мне нужно обговорить с тобой пару моментов.
Can I have you for a minute? I need to talk to you about a couple of things.
ПО-ГОВОРИТЬ-ПОГОВОРИТЬ – HAVE A CONVERSATION
Тебе не кажется, что нам лучше поговорить по душам?
Don't you think we'd better have a heart-to-heart talk?
ПРО-ГОВОРИТЬ-ПРОГОВОРИТЬ – SAY ALOUD
Мне нужно сто раз проговорить вслух иностанное слово, чтобы его запомнить.
I need to say a foreign word aloud a hundred times to memorize it.
ПРИ-ГОВОРИТЬ-ПРИГОВОРИТЬ – SENTENCE
Его приговорили к пяти годам лишения свободы.
He was sentenced to five years in prison.
At first glance, it might seem that word formation based on the addition of prefixes to verbs is quite chaotic in the Russian language, but with some practice, you would gradually get an idea of how it works. For instance, prefix
за
may refer to the beginning of an action, the movement to a position behind an object, a brief deviation from a path, or completion of an action. Please enjoy your Russian!